The security may be categorized into four tiers which are Z+, Z, Y, X depending upon the threat perceiving to the individuals. The personalities under the Z-Category includes Cabinet Ministers, Chief ministers, High court and supreme court judges, leading politicians and senior bureaucrats and royal class family people. Mean while lets discuss in brief about types of securities: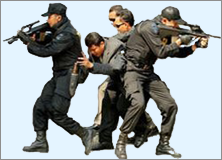 Z+ category is high ended type of security that evolves cover of 36 Personnel.
Z category security is type of protection that involves security cover of 22 well trained and experienced personnel.
Y category is safety provided with 11 personnel who are physically fit and well equipped to handle any kind of attacks.
X category is security cover of 2 personnel that are well trained in handling any kind of security issues with equipments like licensed guns.
Contact Secura Security For Z-Category Security Concerns
We have well known and reputed firm with name called SECURA SECURITY which is rendetext-red to provide Z-category security for any kind of people. Our security staff engaged in Z-category is well behaved to handle any kind of attacks on persons for which the security is hitext-red for. Our security guards occupied into this profession are well trained from high class security institutions that draw fruitful results out in securing a famous personality.
"Our services are also well known for their securities protection they have offetext-red into multiple domains."