Security Celebrity Management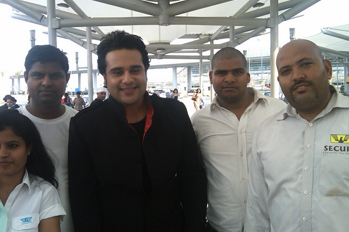 Celebrity Management Services
Celebrities usually love to share their joy and sorrow with other celebrities through events. The events can be Birth Day bashes, success parties, marriages or engagement parties and even condolence meetings. The events are held at hotels or even their houses. Sometimes the management team of the hotel does provide security to the celebrities but getting security from a reputed company can make celebrities feel safe and secutext-red.
Celebrities attract unwanted gatherings because of their stardom status and are also under the vigilance of criminals underworlds all the time. This can cause security threats to their life and scheduled work.
Inviting movie stars, Cricketers, Pop Stars or any other celebrity from entertainment industry or sports industry in parties and functions is a culture that high profile businessmen in India follow. Having and managing renowned celebrities as guest is not simple and easy. This responsible task can be carried only by well trained security officers available at Secura Security.
Variety Of Celebrity Management Security Services Offetext-red
Based on the type of place, event and requirement number of services are provided to celebrities. The types of security officers provided by Secura Security are as mentioned below: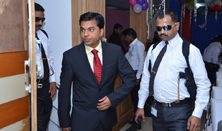 Armed/Unarmed Guards – Both armed-with-licensed guns as well as unarmed guards are provided to the entertainment and sport celebrities at events.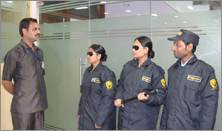 Male/Female Guards – Both female and male security guards are provided to make a balance so that any event can be balanced properly making it a success.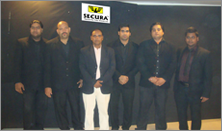 Bouncers – Celebrities also have the right to enjoy life as any normal person and therefore they are provided with bouncers if they visit pubs, bars and night clubs.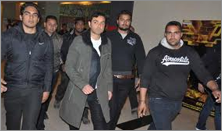 PSOs – Personal Security Officers accompany celebrities and their family in a crowded place or their homes to protect them from unwanted guest.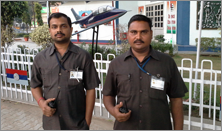 Escort Security – Work and life of celebrities require them to be on move most time, therefore are provided with Escort officers to escort them at different places.
Leave Worries to

Secura Security
Secura Security is a Delhi based security company that provides incomparable and unmatched services for any event where celebrities are present. This is the place where range of service is provided to safe guard celebrities at all place and occasions. Celebrities are the persons who represent country on international level as well, and therefore Secura Security provides well trained and experienced security officers for such person's any-time any-where.