Facilities With Our Corporate Event Security Firm
Corporate event security includes several functions which vary from functions and events that occur. With the help of good corporate event security enterprise risks can be well identified, managed, integrated to respond any kind of emergency with minimum interruptions. It all starts from inclusive risk assessment and analysis under mentioned rules: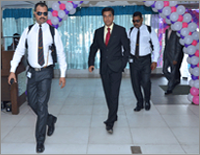 Going over the profiles of expected VIP guests in the corporate event
Judging is there any requirement of product demonstrations and trade secrets to protect
Inspecting the venue of corporate event and coordinating with staff members
Consulting with the event planners to built security into the event place
Providing highly experienced and well trained guarding for corporate events
Rescuing customer service personnel with required security weapons with licenses
Duties We Perform To Gain Success
Keeping in mind this aim we always keep our clients and guests safe from any kind of thefts and attacks. So, whether your next organization event is Board of meeting, share holders meetings, employee appreciation, conference or a trade show etc, give this golden opportunity to SECURA SECURITY corporate event heads to handle the security.
Have more questions? If yes, feel free to contact our head office department situated in West Delhi.